About WideScenes Photography
Behind the Scenes

WideScenes Photography is proudly owned by Paul & Helen Woodford. We are professional photographers & publishers that specialise in travel & tourism photography, tourism products, image licencing & fine art prints. But mostly just for the love of it.
Paul Woodford

has been in the photographic industry for most of his life and was General Manager of Australia's largest photographic company within the hospitality industry for almost 9 years. His passion and commitment to capturing the perfect scene to reflect nature's beauty is visible right through to the production of the final product. Having travelled to most parts of the world, Paul has gained invaluable knowledge which assists in obtaining the required images in a diverse range of cultures and countries. He also has a bad habit
of standing underneath coconut trees.

Helen Woodford has been involved in photography for over 15 years. Having worked for several years at the same photographic company as Paul, is also involved in the Travel & Tourism industry where she has gained an invaluable knowledge of the industry and its requirements. A skilled photographer, designer and webmaster, she provides WideScenes Photography with fresh ideas for images and products. She gets her kicks from seeing Paul hit by coconuts.
---
---
Product Scenes
Postcards from Fiji Islands & Kiribati are avalaible for purchase.
Books & E-Books available for purchase.
To view all our books (hardcover & digital) & Postcard Range go to our
Products
Page
---

Stock Scenes
We have a wide selection of images for all our requirements. View our galleries and get instance quote and download access. For larger format use contact us.

BANNER - 22m x 5m


---

Link Scenes
Here are some useful sites we recommend. Click on the logos below to visit the sites
We use Adobe Lightroom as our main cataloging and editing software. It is excellent software for the ultimate digital darkroom. You can also find great e-seminars both live & on-demand via their website. They offer a great monthly rate (around A$14.29mo excl GST) for the Creative Cloud version of Lightroom & Photoshop. Click here to view and download the trial to check it out.
We are resellers for the NiSi range of products. To check out their filter holders, filters and accessories click here. Free delivery for orders over AU$49.00 Australia Wide only. NiSi filters only available for Australia Delivery. Contact us for New Zealand delivery details. For all other countries please contact your local NiSi supplier.
OnOne Software

It works as a plug-in for Lightroom & Photoshop but also as a standalone which is awesome if you do not have either of the these. No subscriptions is required and is available for both Mac & Windows. The new ON1 Photo Raw is a must have and at the heart lies Develop & Effects which include everything you could possibly need for creating any look you want to your image. The hundreds of filters and presets are stackable, allowing for endless creativity. Make sure you check the minimum computer requirements for the software before purchasing.

Click here

if you are interested.

Skylum (Previously known as MacPhun)

: Aurora HDR 2018 and Luminar Neptune are also very useful editing software and work as stand-alone products. The Aurora HDR 2018 is the best HDR software currently on the market. It's a one-stop-shop for HDR shooters who want to align, blend and stylise in one application. You can order the 2018 version which has even more great features over the 2017 version at a great price. In the past, this software has only been available to MAC users however that has changed with the latest release for PC.

Click here to

order

Aurora HDR 2018

.

Upgrades prices are also available if you have previous versions.

Luminar Neptune is a great photo editing software for Mac (coming to PC soon). Fast and powerful, it now features Accent, the world's first AI-powered photo filter. Luminar makes complex image editing ultra-easy, helping you create the most beautiful pictures in seconds. Click here to order

Luminar Neptune

.




We use the Slide straps with their great anchor link system & the Shell, an ultralight protective rain/dust camera cover. They also have a great range of camera bags, clips, straps and covers,

click here

to see their full range and receive your free gift with purchases of USD$65.00 or more. You will be able to choose one of several gift options at checkout.

Awesome image enhancement plug-in software. We currently use Studio, Detail, Clarity, Clean, DeNoise, Glow, ReStyle, Simplify, Texture Effects, Adjust, InFocus, Lens Effects, B&W Effects and ReMask. Topaz Studio is a FREE download and is a simple to use editing platform with Topaz Labs' powerful acclaimed photo enhancement technology. It works as a standalone editor, a plugin within Lightroom and Photoshop, as well as a host application for your other Topaz plugins. Click here to view there full range of products.

We are an affiliate with HdrSoft who make Photomatix Pro software, one of the best HDR software applications on the market. If you are not experienced at manually blending images using layers in Photoshop then this is a great alternative. To purchase the software

click here

and use 'widescenes' in the coupon code box and you will receive a 15% discount. This will save you about AUD$20.00.

We made the switch from Nikon to Sony over 2 years ago and we have not looked back since. The A7 range of full frame mirrorless bodies are fantastic (we use the A7R & A7ii) and offer some great benefits for what we do over other DSLR's on the market. We also have the Sony a6000 that is a great crop sensor (x1.5) that gives us that extra focal length on our Sony 70-200 lens.

Click here

to visit the site and see their full range of cameras and lenses.

Excellent software. We especially love their Sharpener Pro 3.0 and Color Efex Pro. They are now owned by Google. and offer this fantastic editing suite absolutely FREE. The software includes, Analog Efex Pro, Color Efex Pro, Silver Efex Pro, Viveza, HDR Efex Pro, Sharpener Pro & Dfine. Click here to download.
When we travel and need a lightweight tripod that is sturdy and can support our camera/lenses we use the Freelander Carbon Fibre C-820 tripod. They are great compact tripods that are reasonably priced especially considering the height they stand (162cm), are carbon fibre and can convert to a momopod as well. Many of the popular brands that have carbon fibre tripods on the market range between $400.00-$1000.00. We are resellers of these great tripods, we normally sell them for AU$250.00* incl GST and can arrange delivery within Australia. Contact us to get full specs and to find out more.

*Price is subject to change and will be confirmed at time of order.

When weight is not a restriction and you need a solid, heavy duty tripods, we use the Manfrotto 055B tripod with a 168 ball and socket head. This beast wont budge and is still going strong after 25 years of use.
Great bags!!! Have used the Mini-Trekker, Transit Backpack 350AW and Sling bag for years and they have never let us down.
A great little tripod which is excellent to use when it is difficult to use a conventional tripod.
---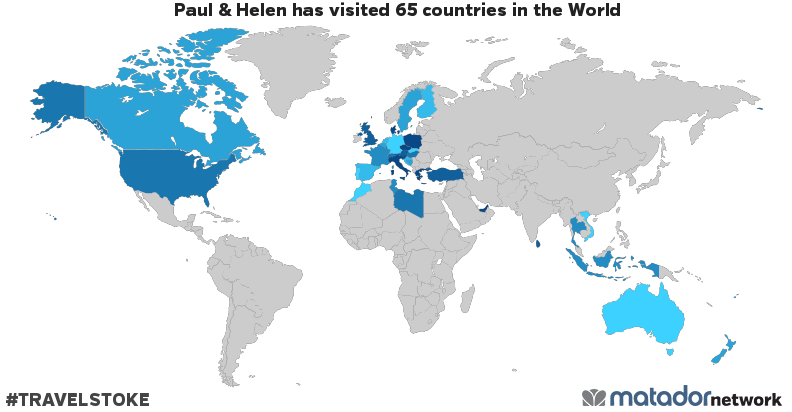 Paul & Helen have been to: Andorra, Antigua and Barbuda, Australia, Austria, Barbados, Belgium, Bosnia and Herzegovina, Canada, Cook Islands, Croatia, Czech Republic, Denmark, Dominica, Fiji, Finland, France, French Polynesia, Germany, Gibraltar, Greece, Grenada, Guadeloupe, Hungary, Indonesia, Italy, Kiribati, Libya, Luxembourg, Maldives, Malta, Montenegro, Montserrat, Morocco, Nauru, Netherlands, Netherlands Antilles, New Zealand, Niue, Poland, Portugal, Saint Barthélemy, Saint Kitts and Nevis, Saint Lucia, Saint Martin, Saint Vincent and the Grenadines, San Marino, Serbia and Montenegro, Singapore, Sint Maarten, Slovakia, Slovenia, Spain, Sri Lanka, Sweden, Switzerland, Thailand, Tunisia, Turkey, Tuvalu, United Arab Emirates, United Kingdom, United States, Vanuatu, Vatican, Vietnam. Get your own travel map from Matador Network.